---
---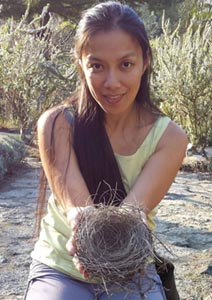 Stephanie Law is an Oakland based artist. Although relatively new to the botanical illustration discipline, the fantastical imagery in her watercolor paintings over the past two decades have always shown a strong influence and inspiration from the natural elements of her Californian surroundings. She is a member of the Northern California Society of Botanical Artists chapter of ASBA, and much of her subject matter comes from explorations of the regional parks, as well as the collections of the UC Berkeley Botanical Gardens.

She can be contacted by email at:
stephlaw (at) gmail (dot) com

Exhibitions

* (upcoming) Fall of 2016 (TBD) - Hunt Institute for Botanical Documentation - 15th International Exhibition of Botanical Art and Illustration
March 2015 - Filoli Gardens, Redwood City, CA - 17th Annual Botanical Art Exhibit
January 2015 - Berkeley Botanical Gardens, Berkeley, CA - 6th Annual Plants Illustrated Exhibition - Down the Garden Path
January 2015 - CA Native Plant Society, San Jose, CA - Annual Native Plant Exhibition - Second Place: Holly Leaved Cherry

Publications

Plant Illustrations for The Herb Gardener's Essential Guide, by Sandra Kynes, Llewellyn Worldwide, April 2016.
---
All images, graphics, and content on these pages are ©2017 Stephanie Law
All rights reserved.
Stephanie Law Botanical Art